Blog 151 for February 22, 2020
BIBLE TRIVIA
"WHO?"
Who declared Naphtali, "a doe set free"?

Who helped Apollos in certain aspects of his understanding of the gospel?

Who was the straight shooter that helped Josiah when all Israel was in a tight spot?

Who refused the invitation to wed Merah?

Who risked punishment by defying the king's orders and letting her son live?

Who was the world's first victim of violent crime?

Who suffered much and needed a kinsman-redeemer to care for her?

Who was with Judas and the party seeking to arrest Jesus as He prayed in Gethsemane, whose ear was cut off?

Who is the archangel who fought the devil over the body of Moses?

Who was a precursor of the kind of faith it would take to follow Christ and was also a foreshadowing of the kind of redemption that God would provide for His people?
You have your work cut out for you. Anyone who wants to complete this and send it to me, I will post your name in my next blog.
Now enjoy this YouTube video of "Somebody Bigger Than You and I."
Enjoying the journey; hope you are too!
BESS
Blog 150 for February 15, 2020
DO YOU SEE WHAT I SEE?
HURT everywhere,
Individuals, Families, Churches,
Broken Relationships, Hurt Feelings,
Tears, Sorrow, Sadness, Anger,
Division, Separation, Loss.
SICKNESS all around,
Cancer, Cancer, Cancer,
Communicable Diseases,
Birth Defects, Ravages of War,
Broken Limbs, Flu, Old Age Issues.
DYING, Yesterday, Today & Tomorrow,
War, Terror, Gangs, Anger,
Home Invasions, Bad Relationships,
Accidents, Disease, Old Age,
Drugs, Addiction, Sickness.
DO YOU HEAR WHAT I HEAR?
A SONG in the night,
God understands your heartache.
Oh yes, He cares, I know He cares,
I must tell Jesus all of my trials.
Jesus will help me, Jesus alone.
A WORD in the light,
Cast all your care upon Jesus,
Because He cares for you,
Call unto ME and I will answer you,
And show you great & mighty things.
A CHARIOT in flight,
Good News, Chariots coming,
Heaven will surely be worth it all,
Face to face shall I behold HIM,
When the darkness I see, He'll be waiting for me,
I WON'T HAVE TO CROSS JORDAN ALONE!
Bess
Blog 149 for February 8, 2020
February is a special month for us Kirbys. It's special because four of our family members have birthdays; and, because it's the "love" month ( Valentine's Day).
We start the month, thanking God for Bob Luetkemeyer, our daughter, Micki's husband. "Happy Birthday (Feb. 3), dear Bob. Thanks for being the loving, caring husband to Micki and the strong, Godly father for our two grandsons, Cody and Chase. We love you."

Next, we send a second birthday card to Cody (Feb. 6), Bob's & Micki's older son. Cody's job transferred him from the Melbourne, FL, Headquarters to their offices in Colorado Springs, Colorado. He seems to love it there. He's out there alone, except for his German Shepherd, Kerchak. We pray daily for him. So, "Happy Birthday, dear Cody. We are so proud of you, of your good character, your Christian life, your technical skills, and your work ethic. We love you."

We can't forget Gwendolyn, my sister, whose birthday is Feb. 7. "Happy Birthday, dear Gwendolyn. We thank God for your Christian life; for your many achievements; and, for your love of family. We know your heart was given to missions, feeling God's call early on. Thanks for answering His call and serving God and the Church of the Nazarene in Manzini, Swaziland, Africa. We know that the whole continent of Africa gets to your heart. Decorative items in your home and clothes you wear bear this out. Have a great birthday celebration! We love you."

One more "shout-out" to Michael, Chuck's younger son, born Feb. 19. We are so thankful for him. He serves proudly in the Navy, being stationed at Pearl Harbor, Hawaii. He has risen in the ranks during his time served. So, "Happy Birthday, dear Michael. We are so proud of you. We pray for you every day, especially for your safety. We plead the protective blood of Jesus to cover you all over this land, wherever you are in this world. Hang strong. Keep the faith. Thank you for your service. We love you."

None of us wants to forget Valentine's Day! I love Charles and I know he loves me. Our life together spans 59 years; and come August 19, 2020, it will be 60 years. What that means is that he's my Valentine; and, I am his Valentine. Nothing is going to separate us. We have joined our lives for the long haul until God calls us home. So, "Happy Valentine's Day, dearest Charles. You are forever my man. I love you so much."

To all who are reading my long blog, there's a great song, sung by the Bowling Family called, "Love the People That God Gives You." Please listen to their YouTube of this great song. I love it and am trying to learn it to sing it myself.
Bess
P.S. HAPPY VALENTINE'S DAY TO ALL.
Blog 148 for February 1, 2020
We're home from our gospel cruise. What preaching and singing we heard. To see hundreds of people hurrying to theaters, auditoriums, and to smaller venues, hurrying to find a seat to hear the gospel preached in power and anointing; and, likewise, to hear the gospel singing concerts, lifting up the name of the Lord; WAS VERY INSPIRING! To hear information about a temple tax coin issued in Israel, which has President Trump's photo on it, was mind-boggling, a WOW moment! My sister and I went to a table of one of the preacher's where they had the sterling silver temple tax coins and checked the price, which was $100. Of course, we couldn't afford it. The profit from this coin would go to the temple treasury for the rebuilding of the temple in Jerusalem on Mt. Moriah. I hope I have all the facts "straight." At any rate, we all are aware of the fact that the LORD'S return is imminent.
What great fellowship we had with our personal group, friends from across the country, and the gospel singing groups. We returned home with prayer requests to add to our daily prayer lists; AND with thanksgiving in our hearts for the prayers offered by Nola, Carol, Fred, Charlotte, and many others for our safety in travel. I always enjoy going, but my favorite thing is coming home! Home is where the heart is.
I know…
...God answers prayer.
...Prayer is a conversation with God.
...God said in His Word, "Thou shalt call, and I will answer thee…;" "Call upon me in the day of trouble…;" "Whosoever shall call on the name of the Lord shall be delivered…;" "Then thou shalt call, and the Lord shall answer…;" "Thou shalt cry and He shall say, HERE I AM…"
What sweet Words!
Prayer is the key to everything. Do you need someone to talk to? Are you at your wit's end? Are you sick? Is there trouble in your marriage; in your family? Do you have an addiction problem? Are your burdens pressing in upon you? Well, JESUS IS THE ANSWER. Just speak His name; call upon Him. He's as close as the mention of His name. That's shouting ground. Amen! Amen! Amen!
Now, take time to enjoy this rendition of "Did
You Think To Pray?" performed by Tennessee Ernie Ford, from his "Amazing Grace" album.
Have a great week. Rest in the Lord!
Bess K.
Blog 147 for January 25, 2020
1. How big is your God? He's big enough. "...According to your faith, let it be to you." (Matt. 9:29) Stuart Hamblen wrote these words: "How big is God? How big and wide His vast domain? To try to tell, these lips can only start. He's big enough to rule the mighty
universe, yet small enough to live within my heart." Another songwriter of long ago said it this way: "The Saviour can solve every problem." Please know today, that whatever you are going through, whatever is a problem for you, whatever need you have, He is able, more than able to meet your need. He's big enough! "...'Do you believe that I am able to do this?' They said to Him, 'Yes, Lord.'" (Matt. 9:28b)
2. Will God heal your hurts? Yes. I Peter 5:7 says that we should "Cast all our
care on Him for He cares for us." God works in mysterious ways His wonders to perform. Jesus never fails!!! You can count on Him. Matt. 4:24 says "...and He healed them." Is. 53:5 says "...by His stripes we are healed…"
3. Will God bind up your brokenness? Yes. He's the Healer of broken hearts. The songwriter said, "He's the Healer of broken hearts. He'll mend your shattered dreams. He'll pick up the threads
of your broken life and weave them together again. To your soul He'll bring peace and joy; a friend in need He'll be, the Healer of broken hearts, this Jesus of Galilee." Hosea 6:1 says, "...He will heal us;...He will bind us up."
4. Is God able to supply your needs? Absolutely. Phil. 4:19 says, "My
God shall supply all your needs according to His riches in glory by Christ Jesus." 2 Chron. 25:9b says, "...the Lord is able to give you much more…"
5. Does God keep His promises? Yes, Yes, Yes. He changes not. He
will do what He says He will do! 2 Pet. 3:9 says, "The Lord is not slack concerning His promise, as some count slackness, but, is longsuffering toward us, not willing that any should perish but that all should come to repentance." Mal. 3:6 says, "For I am the Lord, I do not change…" You can take His promises to the bank!!!
​
Now to Him who is able to keep you from stumbling, and to present you faultless before the presence of His glory with exceeding joy, To God our Savior, Who alone is wise, be glory and majesty, dominion and power, both now and forever. Amen.
(Jude 1:24-25)
Bess
Blog 146 for January 18, 2020
Every couple has their personal wedding date. Charles and mine was August 19, 1960. As you can tell, we've traveled many miles together, always strengthened by God's Almighty hand. As we look back over our years, we can truthfully say we have had a wonderful life. And the joyful journey continues.
God ordained marriage; that is, one man for one woman. Gen. 1:27 says "So God created man in His own image; in the image of God He created them; male and female He created them." He first made the man Adam; then, the woman, Eve, and the two became one flesh in marriage. Gen. 2:24 says, "Therefore a man shall leave his father and mother and be joined to his wife, and they shall become one flesh."
Well, we are happy to declare that the merger, the union, and the marriage of our wonderful and loving son, Charles Jr., and his precious and sweet wife, Kaye, took place on January 19, 2018. They tied the knot that night. The private ceremony took place among the family at the altar of Lake Gibson Church and of course, his dad performed the ceremony. A little later, a public reception was held in the fellowship hall of the church.
I tried to find the lyrics to wedding songs that I would have remembered, like "Because of You" and "I Love You Truly," but couldn't find them on "Google." But I found a portion of this love song in my collection of music; don't know the author, and, maybe Chuck and Kaye saw in each other what these words say.
"You are the promised kiss of springtime that makes the lonely winter seem long. You are the breathless hush of evening that trembles on the brink of a lovely song. You are the angel glow that lights a star. The dearest things I know are what you are. Someday my happy arms will hold you, and someday I'll know that moment divine, when all the things you are, are mine."
And so, the Bride and Groom have started their journey! We wish them well! Matthew 19:6b says, "Therefore what God has joined together, let not man separate."
I'm still loving this man of mine!!!
Bess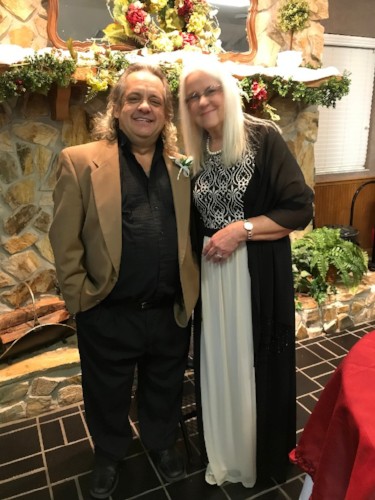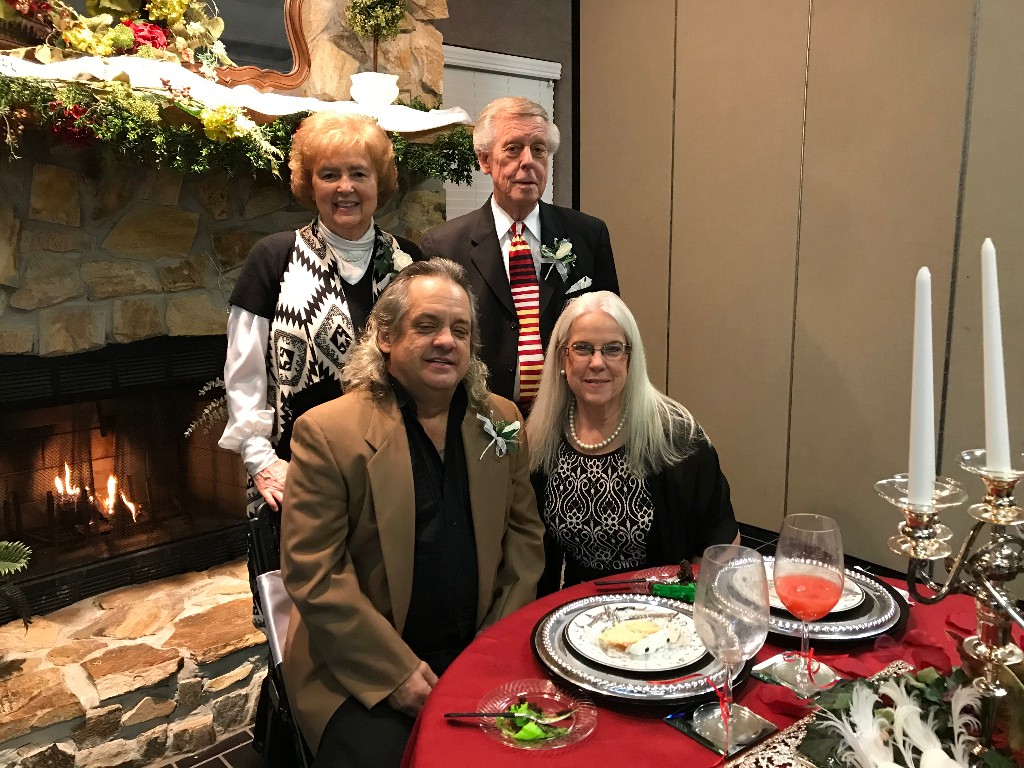 Blog 145 for January 11, 2020
MY SISTER'S COMING…
AND
WE'RE GOING ON A CRUISE!!
Family is so special to me. In fact, Mary Nicoson gave me a plaque a long time ago that says, "Of all the gifts big and small, a family's love is the best of all." I see, and read, the plague quite often. I was blessed to have had two sisters and one brother. Sorrow came our way when one sister died. Cancer took her. But I still have one sister left. How special to have siblings. So, come Thursday, Jan. 16, 2020, we will pick my sister up at the Tampa Airport. It's a great time for her to come. And while here, we will set sail for the islands of the Bahamas.
We will depart on Royal Caribbean Cruise Line's luxurious Brilliance of the Seas. Our ports of call include Key West on Tuesday, Coco Cay, Bahamas on Wednesday, and Nassau, the Bahamas on Thursday. It will be a day at sea on Friday and Friday night making our way back to Tampa. Saturday morning about 7 or 8 a.m. we will dock at the port of Tampa.
The excitement of this cruise is not found in the ports of call; it is in the gospel music concerts and anointed preaching; talking to the groups, enjoying the fellowship, worshipping as we listen to preachers and singers share the gospel of Jesus Christ. There are lots of opportunities to explore things like the famous straw market, even tour historic city sites, shop, take a glass-bottom boat tour, take a traditional trolley tour, and other things.
Our departure date is Monday, Jan. 20, 2020. We return on Saturday, Jan. 25, 2020. What we all need from you readers, are PRAYERS for our safety and good health. Please pray for us. And thank you, in advance.
Have a great New Year.
Love,
Bess
Blog 144 for January 4, 2020
MORE AND MORE AND MORE, I'M FEELING THE BURDEN OF A COUNTRY (A WORLD) BELEAGUERED AND TORMENTED BY SIN… a world created by God without sin, originally. But sin entered that Garden of Paradise, and my, how it has spread. In fact, the whole earth fails to see the glory of God; instead, it is blinded by Satan. Sin has covered the earth.
God, through His Son, Jesus Christ, paid the penalty for the sins of the whole human race. For 2000 or so years, man has had the free will and the opportunity to choose redemption OR languish in his/her sins. But just as Judas rejected redemption, so have many...too many. We NEED TO PRAY.
Sin has spread like fast-growing cancer. It has consumed the mind, emotion, will, and actions of its subjects. Oh, how we need that healing balm of Gilead. O God, heal us of this devastating cancer of sin.
Where are God's people? Where is the church? Where are the prayer warriors? Where are the burdened? Dear Jesus, please help us! We are desperate. Save our nation, our world. Your Word tells us that You are not willing that any should perish, but that all should come to repentance. Send a great revival, worldwide! May Your amazing grace and plenteous mercy win the hearts of the lost. May our prayers send conviction upon the lost. Help us, Jesus, to stand in the gap for our nation, our world. Amen.
All one has to do is read the newspapers and watch the news on TV to know the dire sickness of a town, a city, a county, a state, a nation, even a world. Please join me in prayer for our nation, our world.
Bess