Blog 229 for AUGUST 28, 2021
Thank You, Lord!
"Trinity"
(Written by St. Ethelwold)
This is the last blog in the three-month series of some of the most famous prayers of all time, as chosen by "somebody" associated with ConnectUS. Some of the authors, many of my blog readers may have never heard of; nevertheless, for me it has been interesting reading, finding out a bit of information about the different authors, and certainly thought-provoking.
You are probably wondering just who is St. Ethelwold? I wondered that also. She has been the hardest one to find out much information. Not sure of her birthdate. In fact, little is known. She was born to noble parents in Winchester, England. She died in 740.
St. Ethelwold served in a secular capacity at the Court of King Athe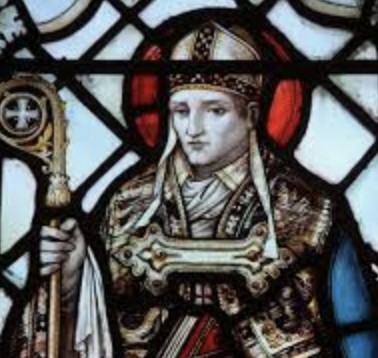 lstan. She was a leatherworker and bookbinder who turned Monk. She served as Prior and then Abbot of Old Melrose in Scotland. She was a Bishop of Lindisfarne, England, and she was a Benedictine hermit on Fame Island, England. I'm not even sure in what order she served in these capacities. Below is her short famous prayer.
"TRINITY"
"May God the Father bless us, may Christ take care of us, the Holy Ghost enlighten us all the days of our life. The Lord be our defender and keeper of body and soul, both now and forever, to the ages of ages." Amen.
"Prayer is the key to Heaven...and faith unlocks the door."
Remember those lyrics from a good ol' gospel song.
.
Blog 228 for AUGUST 21, 2021
Search Me, Oh God…
"Let Me Serve You"
(Written by St. Theresa of Avila)
"Govern everything by Your wisdom, O Lord, so that my soul may always be serving You in the way You will and not as I choose. Let me die to myself so that I may serve You; let me live to You who are life itself." Amen.
This reminds me of a chorus I use to sing…
"I will serve Thee because I love Thee. You have given life to me. I was nothing until You found me. You have given life to me. Heartaches, broken pieces, ruined lives are why You died on Calvary. Your touch was what I longed for. You have given life to me."
I'm pretty sure Bill Gaither wrote this. If he didn't, somebody did. I know I didn't.
St. Theresa was a Reformer. She was born March 28, 1515, in Avila, S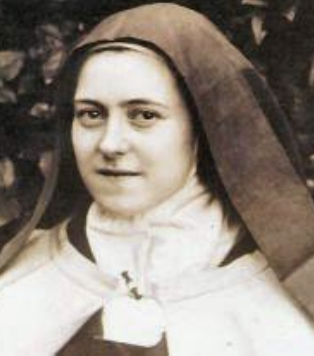 pain, and died Oct. 4, 1582. St. Theresa was a major figure in the Catholic Reformation as a prominent Spanish mystic, and writer, and monastic reformer. She was known for her ecstatic visions. Her bio is interesting. So much to read. Disillusioned with the lax practices of her Carmelite Convent, St. Theresa founded a separate province of shoeless Carmelites who took vows of austerities and strict spiritual discipline. She was canonized in 1622 by Gregory XV.
In the "Twenty Most Famous Prayers of All-Time - Connect Us" found on the internet, so many of the authors have been Catholic priests, monks, bishops, and/or Saints. Due to my personal religious background and denominational affiliation, a few of the authors have been familiar; others have not. Next week's famous prayer is again written by a Catholic Saint. It will conclude our three-month series of famous prayers in June, July, and August.
Be blessed.
.
Blog 227 for AUGUST 14, 2021
Hear My Prayer, Oh Lord.
"You Over Me"
(Written by St. Augustine)
"Lord Jesus, let me know myself and know You, and desire nothing save only You.
Let me hate myself and love You.
Let me do everything for the sake of You.
Let me humble myself and exalt You.
Let me think of nothing except You.
Let me die to myself and live in You.
Let me accept whatever happens as from You.
Let me banish self and follow You, and ever desire to follow You.
Let me fly from myself and take refuge in You,
That I may deserve to be defended by You.
Let me fear for myself.
Let me fear You, and let me be among those who are chosen by You.
Let me distrust myself and put my trust in You.
Let me be willing to obey for the sake of You.
Let me cling to nothing save only to You.
And let me be poor because of you.
Look upon me, that I may love You.
Call me so that I may see You, and forever enjoy You." Amen."
According to a 2016 article by Ryan Ree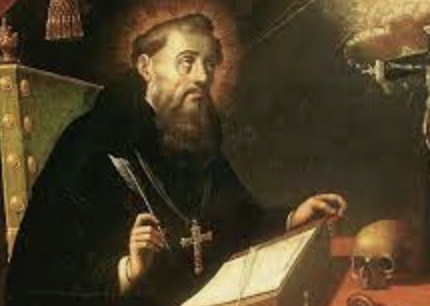 ves, St. Augustine was born Dec. 13, 354 in Thagaste, North Africa; he died August 28, 430. At the time of his birth, North Africa would resemble the modern Bible Belt. The conversion of Constantine helped to change the Roman World so that Christians were no longer persecuted.
Augustine was a prodigious student in rhetoric. He was an expert in it, thereby mastering the skill, speaking with beautiful words and with syncopated rhythms. This was a path to a lucrative and prestigious career.
His career took him to Rome and Milan. In Milan, he found himself confronted not only with pagans, but also with the local bishop, Ambrose. Through Ambrose's preaching, Augustine was converted to faith. His Mom, Monica, had prayed for years for Ausgustine's conversion and she lived long enough to see it.
Returning to his native Africa, he became Bishop of Hippo. During this time, as bishop, he would write nearly all of his works. There is much more information out there should you desire to look it up.
"Only Jesus can satisfy your soul." Remember these lyrics from a good ole gospel song! Bess
.
Blog 226 for AUGUST 7, 2021
Oh to be Like Thee...
"Strengthen Us"
(Written by Thomas ȃ Kempis)
Hi there. Here is one of Thomas ȃ Kempis' prayers. As you will discover, he urged Christ-likeness.
"God, our Father, we are exceedingly frail and indisposed to every virtuous and gallant undertaking. Strengthen our weakness, we beseech You, that we may do valiantly in this spiritual war; help us against our own negligence and cowardice, and defend us from the treachery of our unfaithful hearts. For Jesus Christ's sake." Amen.​​​​​​
.
Thomas ȃ Kempis is famous especially for his writing of "The Imitation of Christ." It is said that this is one of the most influential and well-loved books of Christianity.
Thomas was born in 1380 in Kempen, Germany, thus "ȃ Kempis" He attended a school near Deventer, Holland. He was schooled by the order of Brothers and Sisters of the Common Life in the Netherlands. So impressed with his teachers that when he was 19, he entered the monastery of Mt. St. Agnes and spent the rest of his long life behind the walls of that monastery. He was a Priest, a Monk, and a writer.
Thomas wrote many sermons, letters, hymns, and wrote about the lives of saints. And as has already been mentioned, his most famous work is "The Imitation of Christ," instructions on how to love God. In his writings, Thomas stressed the example of Christ in seeking a spiritual lifestyle. Thomas urges Christ-likeness.
Blog 225 for JULY 31, 2021
"LEAD ME"
(Written by Thomas Merton)
"My Lord God, I have no idea where I am going. I do not see the road ahead of me. I cannot know for certain where it will end. Nor do I really know myself, and the fact that I think I am following Your will does not mean that I am actually doing so. But I believe that the desire to please You does, in fact, please You. And I hope I have that desire in all that I am doing. I hope that I will never do anything apart from that desire. And I know that, if I do this, You will lead me by the right road, though I may know nothing about it. Therefore, I will trust You always though I may seem to be lost and in the shadow of death. I will not fear, for You are ever with me, and You will never leave me to face my perils alone." Amen.
I was not acquainted with the author, Thomas Merton. As I start
ed my research to learn more about him, I was truly surprised by my discovery. It seemed to me that here was a man who had tried everything and done everything...a struggling man. I was about to decide to not use his prayer when I thought, this just might be the prayer of thousands of struggling people, both young and old. Feel free to do your own research.
And this morning in our devotions, taken from "Follow the Leader," by Norman G. Wilson, a simple prayer touched my heart, and I felt it would be appropriate to add to this blog.
The illustration was taken from a Christian magazine. The simple prayer was a powerful one, written by a 40-year-old rough and wicked man. He was profane, mean-spirited, and loved to drink and fight. He went from bad to worse, from liquor to drugs. Finally, he got so low he couldn't handle himself. His pastor repeated the advice he had given him so many times before, "Your only hope is God." Beaten and humbled, the man asked the pastor, "How do I contact God?" The pastor said, "Just talk to Him. Ask for His help." The man looked up and here is his prayer, a simple one.
"Help me, God. I can't help myself." The testimony of this 40-year-old man was that "God set him free from alcohol and drugs and all that rotten stuff."
God hears all of our prayers, no matter our circumstances; whether we are thanking Him, praising Him, asking Him, confessing to Him, pleading for deliverance, or whatever your prayer is today. Please know that God is listening. He hears our prayers and He answers our prayers. He may say "Yes;" He may say "No;" He may say "Wait."

Remember to pray till light breaks through.
.
Blog 224 for JULY 24, 2021
PRAY YOUR WAY THROUGH!
"EMPTY VESSEL"
(Written by Martin Luther)
Hi everybody. Hope you are having a great week. Charles and I are so thankful for those of you who read our blogs; and your comments which encourage us. We hope they are a blessing to you. This is the 8th "famous prayer" blog. I started this project in June, and plan to conclude it, the end of August this year.
Our author of today's famous prayer is Martin Luther, one of the most notable theologians in Christendom. He was born Nov. 10, 1483, into Roman Catholicism in the small town of Eisleben, near modern Berlin in Germany; and was baptized the next morning on the feast day of St. Martin of Tours. His parents were Hans and Margarethe Luther, middle-class peasant laborers. His father, a miner, worked hard to ensure a proper education for his son and by age 23, Martin Luther held a Master of Arts degree from the University of Erfurt.
While his father wanted Martin to become a lawyer, due to a terrible thunderstorm experience, where a lightning flash narrowly missed him, Martin cried out a vow to God that if he survived, he promised to live as a monk, and so he did. He entered the Augustinian Order at Erfurt in less than a month's time, becoming an Augustinian friar.
Martin Luther was driven by fears of hell, God's wrath, and a need to gain the assurance of his own salvation. Even after his ordination in 1507, he was haunted with insecurity over his eternal fate and disillusioned by the immorality and corruption he witnessed among the Catholic priests he had visited in Rome. In an effort to shift his focus from the spiritual state of his troubled soul, Luther moved to Whittenburg in 1511 to earn his Doctorate of Theology.
Immersed in the study of Scripture, especially Ephesians 2:8...and the letters written by the Apostle Paul, Martin Luther came to the overwhelming belief that he was "SAVED BY GRACE THROUGH FAITH" alone. Luther now felt with all assurance that salvation was God's free gift. After this, not only did these revelations change Luther's life; they would change forever the direction of church history.
In 1514, Luther began to serve as a priest at Wittenburg's Castle Church. People flocked to hear him. During this time, he learned of the Catholic Church's practice of selling indulgences (religious merits). Those who purchased these documents were promised a reduced punishment for their sins, for the sins of departed loved ones, and in some cases, total forgiveness from all sin. Luther objected to this practice and on Oct. 31, 1517, Luther nailed his famous 95 Theses to the Castle Church Door, formerly challenging church leaders on the practice of selling indulgences and outlining the biblical doctrine of justification by grace alone through faith. This act of nailing his 95 Theses to the church door has become a defining moment in Christian history, symbolic of the birth of the Protestant Reformation.
I think we can say that Martin Luther rediscovered God and changed. Those changes would forever change the direction of church history. The Lutheran denomination was named after Martin Luther. Read his famous prayer, "Empty Vessel."
"Behold, Lord, An empty vessel that needs to be filled. My Lord, fill it. I am weak in faith; strengthen thou me. I am cold in love; Warm me and make me fervent that my love may go out to my neighbor. I do not have a strong and firm faith; At times I doubt and am unable to trust thee altogether. O Lord, help me. Strengthen my faith and trust in Thee. In Thee, I have sealed the treasures of all I have. I am poor; Thou art upright. With me there is an abundance of sin; In Thee is the fullness of righteousness. Therefore, I will remain with Thee of who I can receive but to whom I may not give." Amen.
Blessings, Bess
Blog 223 for JULY 17, 2021
KNEEL AT THE CROSS,
CHRIST WILL MEET YOU THERE!
"HELP ME LIVE IT"
(Written by Keith Green)
Keith Green was born on October 21, 1953, and died in a plane crash on July 28, 1982. He was from Sheepshead Bay, NY. He was a Gospel and Christian singer, songwriter, musician, and contemporary Christian Music Artist. Keith was best known for his strong devotion to evangelical Christianity.
What a talent he had. His life consisted of music, beginning with the ukulele at age three, the guitar at age five, the piano at age seven. Added to music were live theater, television commercials, and writing songs. At age eleven he had forty original songs under his belt and signed a five-year contract as a rock 'n roll singer with Decca Records. Decca and Keith had dreams of stardom but were short-lived when Donny Osmond stole Keith's short-lived spotlight.
There is so much more to the story. (Should you find this interesting, perhaps you might research his name and read more.) You are probably asking, well, what about his faith? We know that Keith had a Jewish background; but, interestingly enough, he grew up reading the New Testament. This odd combination left him open-minded, but deeply unsatisfied. His journey led him to drugs, South Asian mysticism, and "free love." After experiencing what Green described as a "bad trip," he abandoned drug use and became bitter towards philosophy and theology in general. Green would later state, however, that in the midst of his skepticism, he felt that God "broke through his calloused heart" and he became a born-again Christian. Soon afterward, his girlfriend became a Christian; and in 1973 the pair got married and became involved with the VINEYARD CHRISTIAN FELLOWSHIP in Southern California.
The Greens began an outreach program in the suburbs of Los Angeles, California, which later was officially named Last Days Ministries. Keith's initial tone of ministry was largely influenced by Leonard Ravenhill, who pointed Keith to Charles Finney.
Oh my, there is so much to his story. I have to stop here. What a ministry they had, and their legacy lives on.
HELP ME LIVE IT
"Oh Lord, you're beautiful, your face is all I see; for when your eyes are on this child, your grace abounds to me.
Oh Lord, please light the fire that once burned bright and clean; replace the lamp of my first love that burns with holy fear.
I want to take your Word and shine it all around; but, first help me just to live it, Lord. And when I'm doing well, the Lord be our defender and keeper of body and soul, both now and forever, to the ages of ages." Amen.
.
Just keep on praying. Prayer is the key to Heaven. I believe God loves to hear from us. Thanks for reading my blogs.
Blog 222 for JULY 10, 2021
​​​​
"CHRIST BE WITH ME"
(Written by St. Patrick)
Here it is July 10, 2021. Where is time going? I guess I can answer that. It's headed for that Great Day, that HomeComing Day, that Resurrection Morning. Are you ready? If not, PLEASE, don't let another day pass without putting on the wedding garment; without being saved; without confessing your sin to God, repenting, calling on the name of the Lord, confessing HIM as Lord, believing on HIM, accepting HIS sacrificial atonement for your sins, and you will be saved. And pray every day.
For the last five blogs, I've been doing a series on famous prayers. Hope you have enjoyed them. And today is famous prayer number six written by St. Patrick. We know of him, for several reasons, one of which is that he has a day set on the calendar, March 17, for celebrating St. Patrick's Day.
His story is an interesting one. He was born in 385 and died March 17, 461. Research tells us that he was born in Britain into a Christian family. According to Patrick's autobiography, when he was 16 years old, he was captured by Irish pirates. They took him from his home in Britain and sold him as a slave in Ireland.
Six years later, Patrick escaped and returned to his family in Britain. There, he became a cleric and soon returned to Northern and Western Ireland as a missionary. He is credited with bringing Christianity to Ireland and teaching the doctrine of the Holy Trinity. He used a three-leafed shamrock as an illustration of "three in one." For this reason, shamrocks are a central symbol for St. Patrick's Day. It is said that he would faithfully ring the bell in the National Museum of Ireland, to let people know that it was time for church.
The printed portion of his prayer in this blog is the eighth section of St. Patrick's Breastplate, a prayer of protection that has eleven sections. In Ephesians 6:4, the apostle bids his readers to stand, "having put on the breastplate of righteousness."
Christ Be With Me
Christ with me, Christ before me, Christ behind me,
Christ in me, Christ beneath me, Christ above me,
Christ on my right, Christ on my left,
Christ where I lie, Christ where I sit, Christ where I arise,
Christ in the heart of everyone who thinks of me,
Christ in the mouth of everyone who speaks to me,
Christ in every eye that sees me,
Christ in every ear that hears me.
Salvation is of the Lord.
Salvation is of the Christ.
May your salvation, Lord, be ever with us.
May I take this special privilege and wish my great brother, Fred, a Happy Birthday this week!
Enjoy this YouTube video of The Brooklyn Tabernacle Choir, "HOLY, HOLY, HOLY."
Blog 221 for JULY 3, 2021
"COVENANT PRAYER"
( Written by John Wesley )​​​​​​
As I have said in previous blogs, many of the facts concerning the authors of these famous prayers came from research on the internet, especially Wikipedia. Please feel free to learn more about these authors via your own research.
Methodists, Nazarenes, and Wesleyans for sure would know who John Wesley was. They could probably add much to this blog about him, even quote some of his sayings, or maybe tell a familiar story that he told. Wesley prayed many "famous" prayers. The Covenant Prayer is one of them.
John Wesley was born on June 17, 1703, in Epworth, England, 23 miles northwest
of Lincoln, as the 15th child of Samuel Wesley and his wife, Susanna Wesley. He died on March 2, 1791, at age 87. What a contribution he made to the world, having founded the Methodist Church; introducing the experience of sanctification in one's Christian life.
Growing up under the tutelage of his father Samuel, a graduate of the University of Oxford, a poet, and a rector of Epworth, and under the tutelage of his devout mother, Susanna, John became a Christian and later an Anglican Minister. In late 1735, as a young adult, he was invited to serve as a pastor to British Colonists in Savannah, Georgia. So he boarded a ship leaving England headed to the New World.
And the story continues...After a while there he went back to England. He was struggling with his Christian experience. In prayer, he sought help and history tells us that he describes the experience he had, this way. He was "strangely warmed." He knew that he had had an encounter with God. At your convenience, go and read the rest of the story.
That encounter, that experience of sanctification, turned his life around, gave him the power to serve God effectively, to do great exploits for God. His continuing legacy is seen even today in every Methodist, Nazarene, and Wesleyan Church.
COVENANT PRAYER
"I am no longer my own, but yours.
Put me to what you will,
Place me with whom you will.
Put me to doing,
Put me to suffering.
Let me be put to work for you or set aside for you,
Praised for you or criticized for you.
Let me be full, let me be empty.
Let me have all things, let me have nothing.
I freely and fully surrender all things to your glory and service.
And now, O wonderful and Holy God,
Creator, Redeemer, and Sustainer,
You are mine, and I am Yours.
So be it.
And the covenant which I have made on earth,
Let it also be made in heaven.
Amen."
Enjoy the YouTube video, "I Surrender All," by the National Christian Choir.
P.S. July 3rd is our son Chuck's birthday. Love you, Son! Happy Birthday to you. July 4th is my deceased Sister's and her daughter's birthday, Angela Cordell Thaggard. Happy Birthday, Angie. And of course, July 4th is America's Independence Day. God, please bless America. We know that righteousness exalts a nation. Revive us again, oh Lord! Send a mighty Holy Ghost Revival on this land from the northern border to the southern border; from the West Coast to the east coast...all over this land. May righteousness, joy, and peace reign. Amen.
HAPPY BIRTHDAY, AMERICA!